HOME | UPDATES | JOIN | MEMBERS | LINKS
Welcome at Thai Wetlook!
Photographer Theo from Pbase has been a WAM-lover for many years. After he retired he took a holiday in Thailand, where he found that most girls like wetlook, it's a widely accepted cultural phenomenon. Not only during Songkran, the Thai new year where everybody throws water. The girls he meets like to play in water and mud, it's a nice way to cool down on a hot day!
Most girls are nÚt those Pattaya-hookers you will find elsewhere, but real girls from the villages he visits having genuine fun!!
This makes ThaiWetlook a unique site with something for everybody! If you like Asian girls getting wet, you will love this site!
We hope you enjoy your stay!
---
This weeks update:
On gets her jeans outfit dirty by sitting in ashes, dust and mud. Nice thong btw

Pall is pretty and happy.... she is wearing a great jeans and white blouse which she gets soaking wet with fun!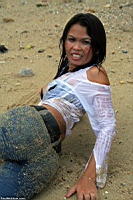 Tak & Yuy in shorts pose sexy on the beach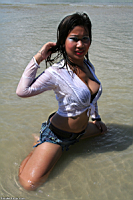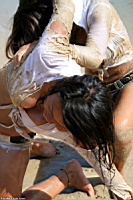 Om & Pa in very short shorts on the beach and in the ocean.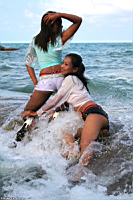 A double feature movie with 5 girls completely rolling in nice, thick mud!

---